Concrete Staining in Rocky Hill, CT
This home has a couple of strong dogs that handily shredded the carpet. After the homeowners removed the carpet we discovered a beautiful concrete floor beneath with radiant heat. The most efficient way for the radiant heat to radiate into the rooms is to put a stained epoxy floor down.
We started by lightly diamond grinding the surface to open up the concrete to accept the stain and to allow a proper bond with the clear epoxy. After we cleaned it off we apply a custom dark brown blend of concrete stain and worked it into the surface.
After the stain cured, we apply a thick layer of 100% solids clear epoxy and then a Polyaspartic Polyurethane topcoat for scratch resistance and UV resistance.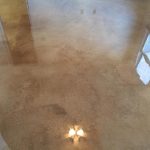 All products are industrial quality and VOC compliant as well as Pet Friendly!!
Thanks Laura and Jeremy, it was nice to work for you, Michael.
When it comes to constructing or renovating a space, flooring plays a crucial role in enhancing the overall aesthetics and durability of the area. Among the various flooring options available, concrete flooring has gained significant popularity due to its versatility,...
Metallic Blue Epoxy Creates a Look of Ocean Waves for Local Business Client – Seahorse Docking Time to Complete – 4 days Problem –  A Damaged, peeling epoxy-coated concrete floor Solution – Create an ocean floor with metallic blue epoxy...
Grind and Seal Using Glass Recycled glass gives this Winsted, CT garage floor a unique look when added to wet concrete.  Once we grind and seal the concrete smooth, exposed glass creates a colorful diversion of texture and sheen.