This concrete floor had many holes from wall demo and fixture removal as well as black mastic adhesive.
We were hired to bring beauty and reflectivity to the floor with a light color to brighten the effect. The owners chose out Sterling Metallic Pigment. We scraped the mastic and diamond grinded the floor with our dustless process. We then filled all holes and cracks.
The next step was to apply our primer and a thick color base coat of epoxy. Then we applied a thick layer of clear epoxy with the Metallic pigment with our faux techniques. Finally, we applied the industrial urethane as the top coat with some non-skid grit for traction safety.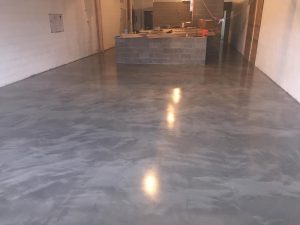 Products Used: Dur-a-flex