Pool Deck Color Restoration in Wethersfield, CT
This stamped concrete, pool deck color restoration project,  was weathered over the years by the elements. It wasn't sealed regularly with protective clear sealer so the color and antiquing agent wore off. The customer also wanted a color change from gray to earth tones. There was a small area that needed repair.
After prep and repairs, we applied a 3 color Water Based stain to the deck and sealed it with 2 coats of water base clear acrylic sealer.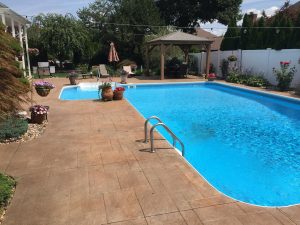 When it comes to flooring, concrete is not just a utilitarian surface but a canvas for creativity and elegance. At Diamond Kote, we specialize in concrete polishing services that transform dull concrete floors into stunning, high-gloss masterpieces. In this guide,...