Epoxy Vinyl Chip Garage Floor- Springfield, MA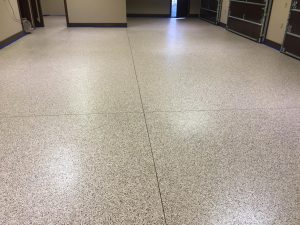 This beautiful home has an attached 5 Bay garage with a dark stained wood trim out. Care had to be taken and precision edging was done to protect the wood baseboard from damage during diamond grinding.
The owners chose the Outback color chip blend from the DiamondKote color chart page, color # 517. It was a perfect choice.
Outback Vinyl Chip Blend
When it comes to constructing or renovating a space, flooring plays a crucial role in enhancing the overall aesthetics and durability of the area. Among the various flooring options available, concrete flooring has gained significant popularity due to its versatility,...
Metallic Blue Epoxy Creates a Look of Ocean Waves for Local Business Client – Seahorse Docking Time to Complete – 4 days Problem –  A Damaged, peeling epoxy-coated concrete floor Solution – Create an ocean floor with metallic blue epoxy...
Grind and Seal Using Glass Recycled glass gives this Winsted, CT garage floor a unique look when added to wet concrete.  Once we grind and seal the concrete smooth, exposed glass creates a colorful diversion of texture and sheen.